Day of Caring will be on June 28th, 2024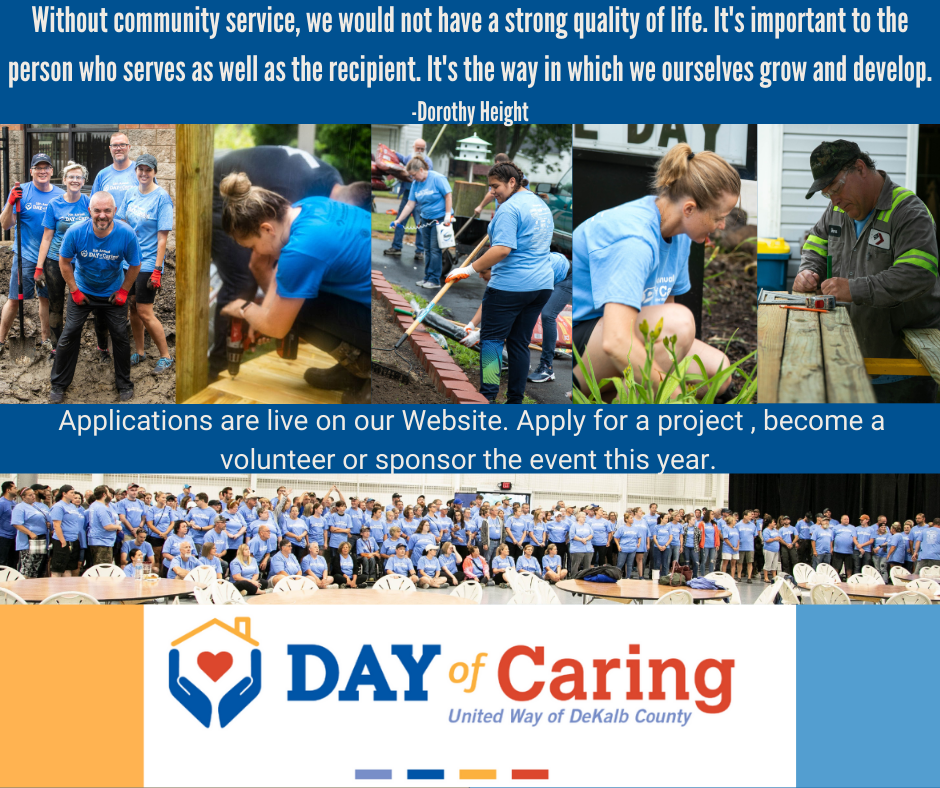 Day of Caring 2023 
750 VOLUNTEERS. 69 PROJECTS. 30 SPONSORS. 1 AMAZING DAY.
The goal of this event is to connect homeowners in need with volunteers ready to help complete projects for the overall benefit of an improved community. Our event is fully funded by sponsorships from strong community leaders, which means project expenses are covered by United Way.
Important Dates
Project and Volunteer Applications for 2024 Day of Caring will be available on February 19th, 2024
Applications and Sponsorships are due May 3rd, 2024
Crew Chief Meetings May 28th 12:00. & May 30th 7:00 am.
Day of Caring Friday June 28th, 2024
Project Application
Project Release of Liability Waiver Form (Required)
Homeowners, Renters, Organizations and Referrals may be submitted for help with projects such as: painting, landscaping, outside repairs, hedge and tree trimming, raking, mulching, staining decks, building ramps, washing windows, and planting and moving flowers.

A Day of Caring Committee Member reviews the application, conducts a pre-assessment, and determines if we have the capacity and skill set to complete the project.
Volunteer Applications
Volunteer Release of Liability Waiver Form (Required)
A Team Leader assembles a group of volunteers from their workplace, church, or other organization and fills out one "Team Application." Each volunteer on the team will fill out a volunteer waiver form

Individual volunteers are also encouraged to participate!
Once applications have been reviewed and pre-assessments have been completed, our Day of Caring Committee will review all projects and accept or deny based on volunteer capacity and skill set. All approved projects will then be paired with volunteers who match the necessary skill set to complete the project. Team Leaders will contact the homeowners and set up assessment times to look at the tasks and create a shopping list of materials. United Way staff, volunteers, and team captains purchase all materials and drop off supplies to the homes prior to the event.
If you or your business is interested in becoming an event sponsor for Day of Caring please fill out the form below and email it to mark@unitedwaydekalb.org
Sponsorship Form
Thank you to our 2023 Sponsors
Gold Hammer and Silver Screwdriver