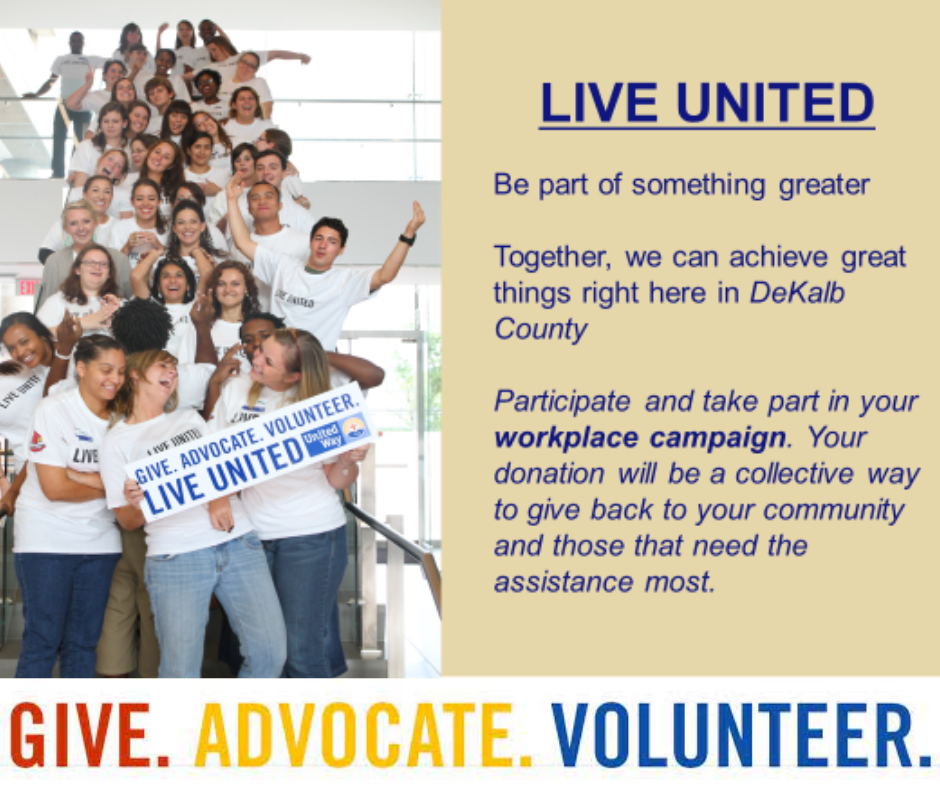 You are the game changers. It isn't enough to see the problems in our community; we must solve them. Alone, we know that we can't. United, we can. The United Way workplace campaign unites employees in advancing life-changing solutions for individuals and families that live in DeKalb County.
Workplace campaigns offer employees the opportunity to donate, volunteer, and speak out for causes that matter to them. They will see the results of Living United in their own backyard. The workplace campaign is about more than raising money; it offers employees a tangible way to impact their community.
Workplace giving is an easy and effective way to help employees make a difference and show them that their workplace is actively supporting our local community's most important issues. Employees of a company are given an opportunity to support United Way of DeKalb County by donating a portion of their paycheck. In many cases, the donations from employees are pre-tax which helps keep the paycheck close to their regular take home amount. Many companies match their employees' donations, which makes their charitable contributions go even further. Whether you're a small business, major corporation, or even a nonprofit, you can join the thousands of local businesses and organizations that run workplace giving campaigns each year.
Benefits of a Workplace Giving Campaign?
Workplace Employee Campaigns are a great opportunity to engage employees, build a spirit of teamwork, and increase morale all while making an impact on the community.
Benefits to the employee
Education

Campaign information about charitable organizations expands employees' knowledge about their community. 

Enhanced Employee Relations

Running a campaign provides a way for employees to improve their community. Also, participation in a campaign committee or events can help develop teambuilding skills and boost morale as employees learn to set goals, work together, and achieve positive results.

Investment

Companies and their employees may be able to receive tax deductions and/or credits from charitable giving as well as enjoy the ease and convenience of payroll deduction.
Benefits to the employer
Community Leadership

Creates a bond of philanthropic interest between employer and employee; each knowing the other is working for the community's best interest. Companies prosper in healthy communities and tend to stay and increase their employee base. Companies outside the area are more likely to invest in communities with a well-educated workforce, attractive and safe neighborhoods, a strong educational system, and social services that address and reduce health and human service needs. 

Corporate Recognition

Campaigns demonstrate to employees, customers, and the public at large that community service, impact, and leadership are a company priority. Companies that participate in campaigns are often recognized in events, media, marketing materials, and other platforms. Companies receive third-party recognition from United Way of DeKalb County, other nonprofits and can also use campaign participation results in their own internal and external communications such as websites, press releases, and annual reports. 

Improved Customer Relations and Loyalty

Market research shows that customers are more likely to purchase goods and services from companies that support their local community.
How do I start a Workplace Giving Campaign? 
United Way of DeKalb County will partner with you to develop a customized workplace giving campaign that aligns with your workplace values, as well as the interests of your employees. We will provide guidance and support to assist you in building your fundraising team and running an effective campaign.
If you're interested in starting a workplace campaign today, please email United Way of DeKalb County, mark@unitedwaydekalb.org